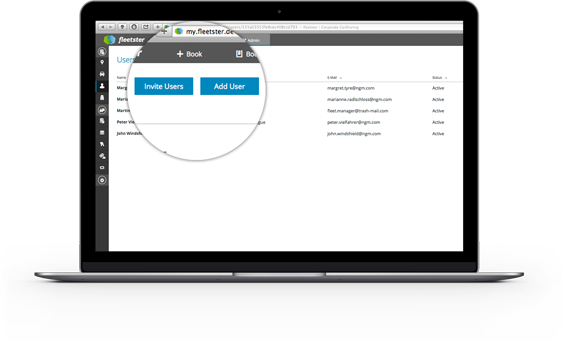 Easy Setup
Setting up your own fleetster system is super simple and does not take much time. After setting up the locations with all its specialties (e.g. how to access the keys), you can implement all of your cars in fleetster. For getting all your users in the fleetster-system, you have three possibilities:
Create all users on your own
Invite all users from a list of e-mails
Import the users from an excel/csv-file with the fleetster team
The fleetster-team is always glad to help with importing data from a csv-file or other formats if you have many cars or locations!
Simple Booking Tool
We want fleetster to be simple to use and fun for the user. Even is the users do not use the system every day. This is why we focus on a cool design, efficient processes and keep trying to eliminate unnecessary steps whenever it is possible.
To provide a very efficient corporate carsharing tool, booking a vehicle in fleetster does not take longer than 3 minutes. Including completing all information for a valid driver log.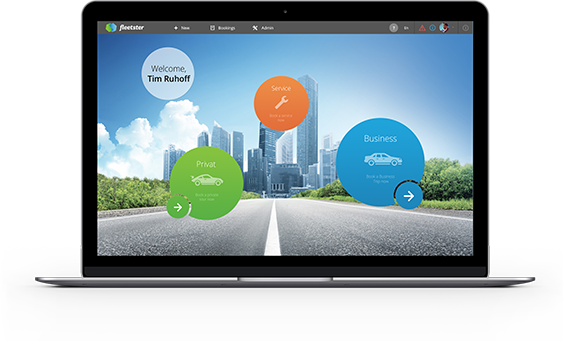 Key Management
For managing your vehicles' key, we have four possibilites in fleetster.
Self-Service: all employees have free access to all keys anytime.
Keymanager, there is a person who has the power of the keys. In fleetster there is a special screen showing all key-releases and -returns per day.
Automatic Keybox from our partner and worldmarket-leader Traka
Keyless with Telematics: Our CarSharing Kits work with all brands and models.
Your company needs a different key management function? Feel free to contact us - we would like to find a solution with you!
Private Trips
Corporate Carsharing means that companies allow their employees the private usage of their fleet. Of course we have that feature in fleetster as well.
We have a well-thought-through pricing model for private trips and the possibility to export all neccessary data for invoicing and accounting of the private trips. As we have a lot of experience with the pricing of the private trips, we are glad to help calculating the prices for your company.
By the way, your company does not have to allow private trips - it's optional.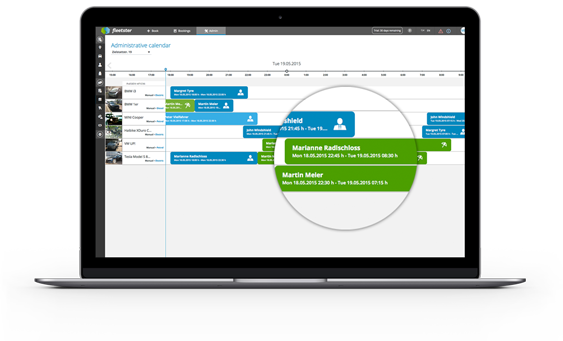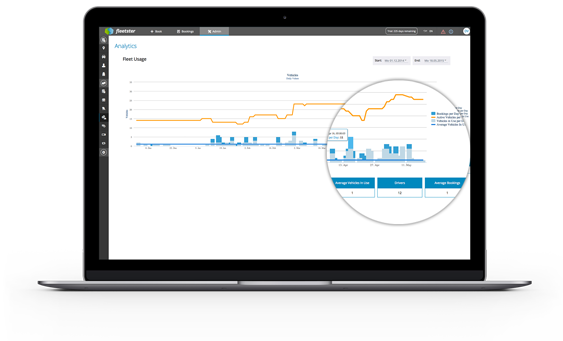 Analysis
To optimize your company's fleet we have implemented meaningful analysis in fleetster - to make the fleet manager's job really easy.
Our analysis section shows, for example, the usage of your fleet, the private trips ratio and how many of your trips could have been driven with an electric car. Maybe you are thinking about integrating an electric car in your fleet already?
eMobility
Electric vehicles can be easily integrated in fleetster. We have developed our own database for the real charging and consumption values of all eCars that are currently on the market.
With this database our software can predict the range of the vehicles at all time in the future. So the driver always knows if his planned trip is possible with an electric car or if he would have to charge while the trip.
The drivers do not have to be afraid of empty batteries anymore.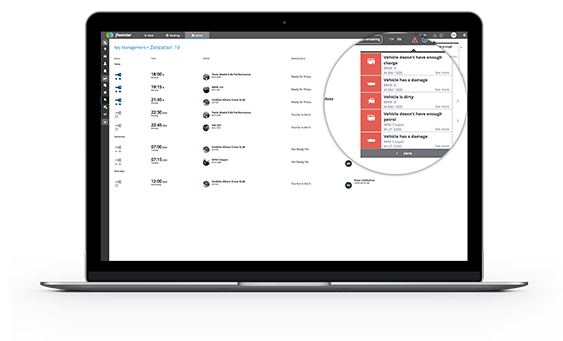 Notifications
The system's administrator(s) are notified about every "special event" that happens in their fleet. There are several reasons for a notification, as:
A vehicle is very dirty,
The driver is late and the next booking would start,
A damage was reported.
All notifications are shown in the top right corner whenever the admin logs in the fleetster system, the urgent ones are also sent via e-mail.
Thanks to the notification-function, the fleetmanager does not have to go to the parking every day to check the status of the vehicles.
We also have a
fleet-management software
for all cars in your fleet - not just the pool cars.
Not sure what feature you need and how they look like?
No problem, just register for an online-demo
We will explain the system to you and help you choosing the perfect plan!
FREE ONLINE DEMO